Gladys Knight Shines Singing National Anthem At Super Bowl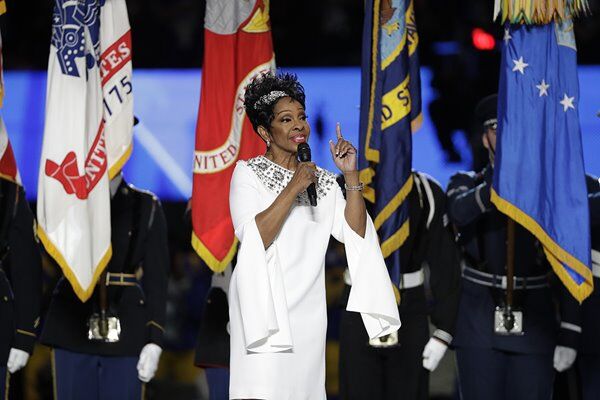 Gladys Knight is definitely a class act, and that was obvious from her performance of the National Anthem at the Super Bowl last night. Dressed in a short white dress, Gladys showed off her stellar pipes, holding the note on "Free" for several seconds, much to the delight of the crowd.
Just before Gladys, Chloe x Halle kicked things off with a beautiful version of "America The Beautiful." Check out the performances to the right, and fan reaction below:
ONE MORE THING!

Apparently there

was one bit

of controversy surrounding Gladys' performance. Apparently folks were betting on how long her performance would last, and there was an issue with it. First, her start time leaked, causing a frenzy of bets. Then she seemed to extend the song, adding an extra "The Brave," which affected the under/over which was one minute, 50 seconds.
If Gladys Knight wanted to come back out for halftime, I would not be mad.

— Brooke Pryor (@bepryor) February 3, 2019
Awesome job by Gladys Knight.

— Mike Golic (@espngolic) February 3, 2019
Gladys Knight just gave one of the best National Anthem performances I've ever seen! #SuperBowlLlll

— madisontager (@madisontager) February 3, 2019
Gladys Knight's ageless voice on full display singing the national anthem. pic.twitter.com/exJWOzsvr1

— Theo Stallworth (@realTheo5) February 3, 2019
that's it gladys knight on the anthem every year

— Women For Kilgore Trout (@KT_So_It_Goes) February 3, 2019
Gladys Knight looked and sounded like she actually descended from heaven to midfield to sing the anthem. #Lordhavemercy #SuperBowl

— T.J. Holmes (@tjholmes) February 3, 2019
I just got blessed to watch Chloe and Halle perform 😭 (excuse my voice at the end i got moved by the spirit 😂). @chloexhalle #melaninpoppin #BlackHistoryMonth2019 #thisisalliwantedtosee love these two 😭😭😭 pic.twitter.com/V2sxwVlLo7

— Asha McKinley (@asha_up) February 3, 2019
Killing it like always 💁🏻‍♀️🙌🏻 @chloexhalle pic.twitter.com/JdrmEHCcY0

— Jennifer VanBramer (@jenerella33) February 3, 2019
I mean....a FLAWLESS performance!!!❤❤❤ @chloexhalle shut it DOWN!!!! #SuperBowl pic.twitter.com/PBQQgMC6pO

— J (@JBoog4sho) February 3, 2019