Honolulu Star Advertiser features Bart DaSilva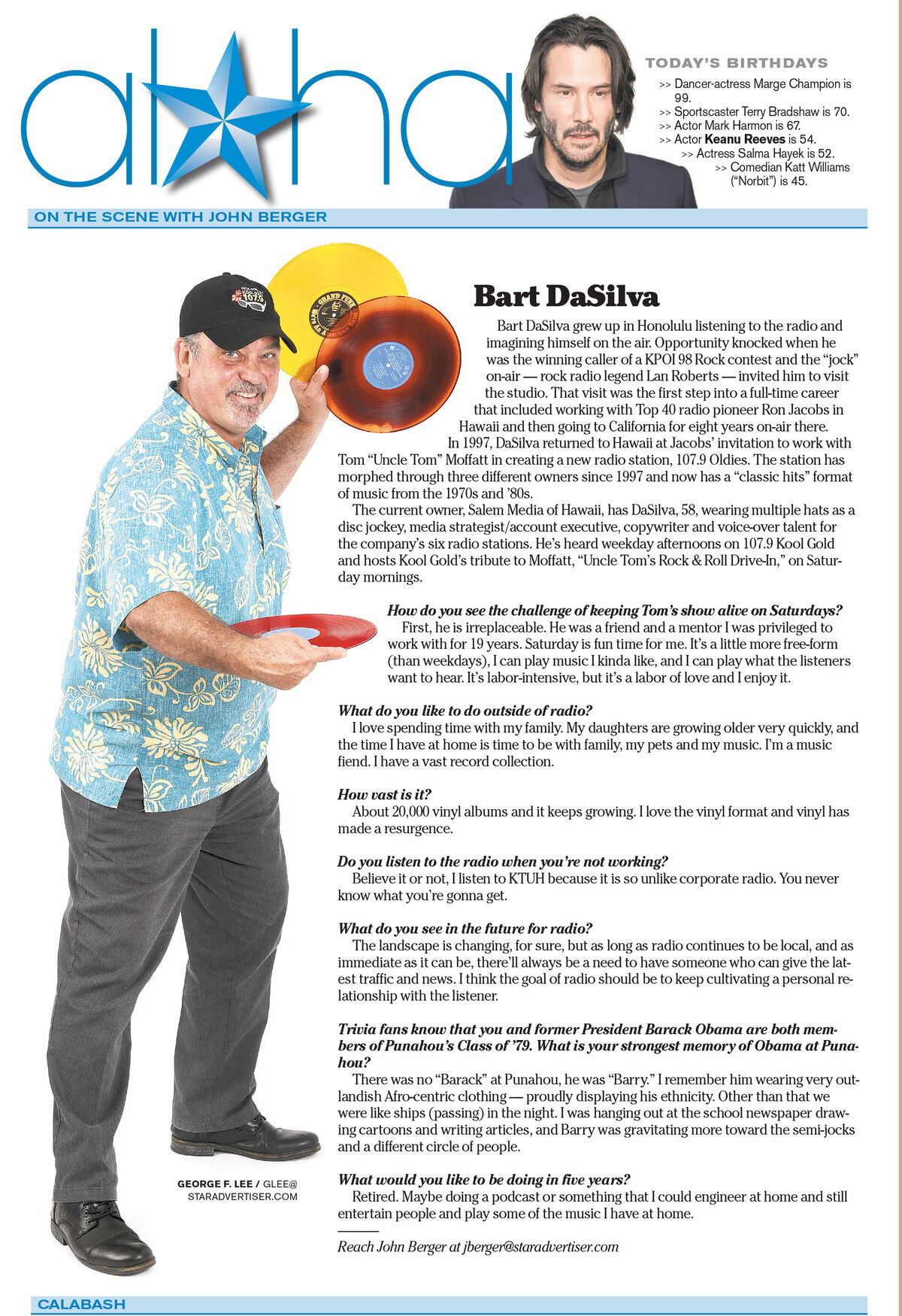 Bart DaSilva

Bart DaSilva grew up in Honolulu listening to the radio and imagining himself on the air. Opportunity knocked when he
was the winning caller of a KPOI 98 Rock contest and the "jock" on-air — rock radio legend Lan Roberts — invited him to visit
the studio. That visit was the first step into a full-time career that included working with Top 40 radio pioneer Ron Jacobs in
Hawaii and then going to California for eight years on-air there. In 1997, DaSilva returned to Hawaii at Jacobs' invitation to work with Tom "Uncle Tom" Moffatt in creating a new radio station, 107.9 Oldies. The station has morphed through three different owners since 1997 and now has a "classic hits" format of music from the 1970s and '80s.

The current owner, Salem Media of Hawaii, has DaSilva, 58, wearing multiple hats as a disc jockey, media strategist/account executive, copywriter and voice-over talent for the company's six radio stations. He's heard weekday afternoons on 107.9 Kool Gold and hosts Kool Gold's tribute to Moffatt, "Uncle Tom's Rock & Roll Drive-In," on Saturday
mornings.

How do you see the challenge of keeping Tom's show alive on Saturdays?
First, he is irreplaceable. He was a friend and a mentor I was privileged to work with for 19 years. Saturday is fun time for me. It's a little more free-form (than weekdays), I can play music I kinda like, and I can play what the listeners
want to hear. It's labor-intensive, but it's a labor of love and I enjoy it.

What do you like to do outside of radio?
I love spending time with my family. My daughters are growing older very quickly, and the time I have at home is time to be with family, my pets and my music. I'm a music fiend. I have a vast record collection.

How vast is it?
About 20,000 vinyl albums and it keeps growing. I love the vinyl format and vinyl has made a resurgence.

Do you listen to the radio when you're not working?
Believe it or not, I listen to KTUH because it is so unlike corporate radio. You never know what you're gonna get.

What do you see in the future for radio?
The landscape is changing, for sure, but as long as radio continues to be local, and as immediate as it can be, there'll always be a need to have someone who can give the latest traffic and news. I think the goal of radio should be to keep cultivating a personal relationship with the listener.

Trivia fans know that you and former President Barack Obama are both members of Punahou's Class of '79. What is your strongest memory of Obama at Punahou?
There was no "Barack" at Punahou, he was "Barry." I remember him wearing very outlandish Afro-centric clothing — proudly displaying his ethnicity. Other than that we were like ships (passing) in the night. I was hanging out at the school newspaper drawing cartoons and writing articles, and Barry was gravitating more toward the semi-jocks and a different circle of people.

What would you like to be doing in five years?
Retired. Maybe doing a podcast or something that I could engineer at home and still entertain people and play some of the music I have at home.

———
Reach John Berger at [email protected]